Located completely west of the La Jacques-Cartier region, the Lac St-Joseph Golf Club is only a 25-minute drive from Quebec City. Once frequented by wealthy city dwellers on vacation at their cottage around the lake, the club was reserved for them. Luckily for us, in 2018, Golf du Lac St-Joseph was bought out and is now open to visitors.
This club wants to be an inviting place where relaxation and good humor are part of everyday life! The 18-hole course is characterized by 5 tee markers between 4300 and 6315 yards. Thus, whether golfers are beginners or experienced, everyone will be able to find their common ground and have a pleasant day. His particuliarity? Its areas of nobility as well as the exceptional beauty of the tee boxes all in bloom.
Location: Sainte-Catherine-de-la-Jacques-Cartier
Route : 18 holes between 4300 and 6315 yards – Par 72
Introductory course on site
Her well-kept secret : A snack service between the two 9 holes offers you excellent sandwiches prepared by Nourcy as well as drinks with or without alcohol.
Suggestion for sleeping nearby: Auberge Duchesnay ou Domaine Ile & Passions
More in the center of the region, at the foot of Mont Brillant, is the Golf du Center Castor. Visitors benefit from the high quality facilities. Particular fact is that the land is located on the Canadian Armed Forces base in Valcartier. The atmosphere is relaxed and everyone is invited to take advantage of this multi-activity centre. The course is varied, walkable and challenges golfers of varying skill levels.
A large outdoor terrace has been specially fitted out on site. The latter includes food and beverage services offering visitors a pleasant place to relax after a day spent in good company.
Location: Saint-Gabriel-de-Valcartier
Route: 18 holes of 6338 yards, Par 72
On-site convenience store
Her well-kept secret : Now open to everyone!
Suggestion for sleeping nearby : Village of luxury yurts on the site or Auberge du Mont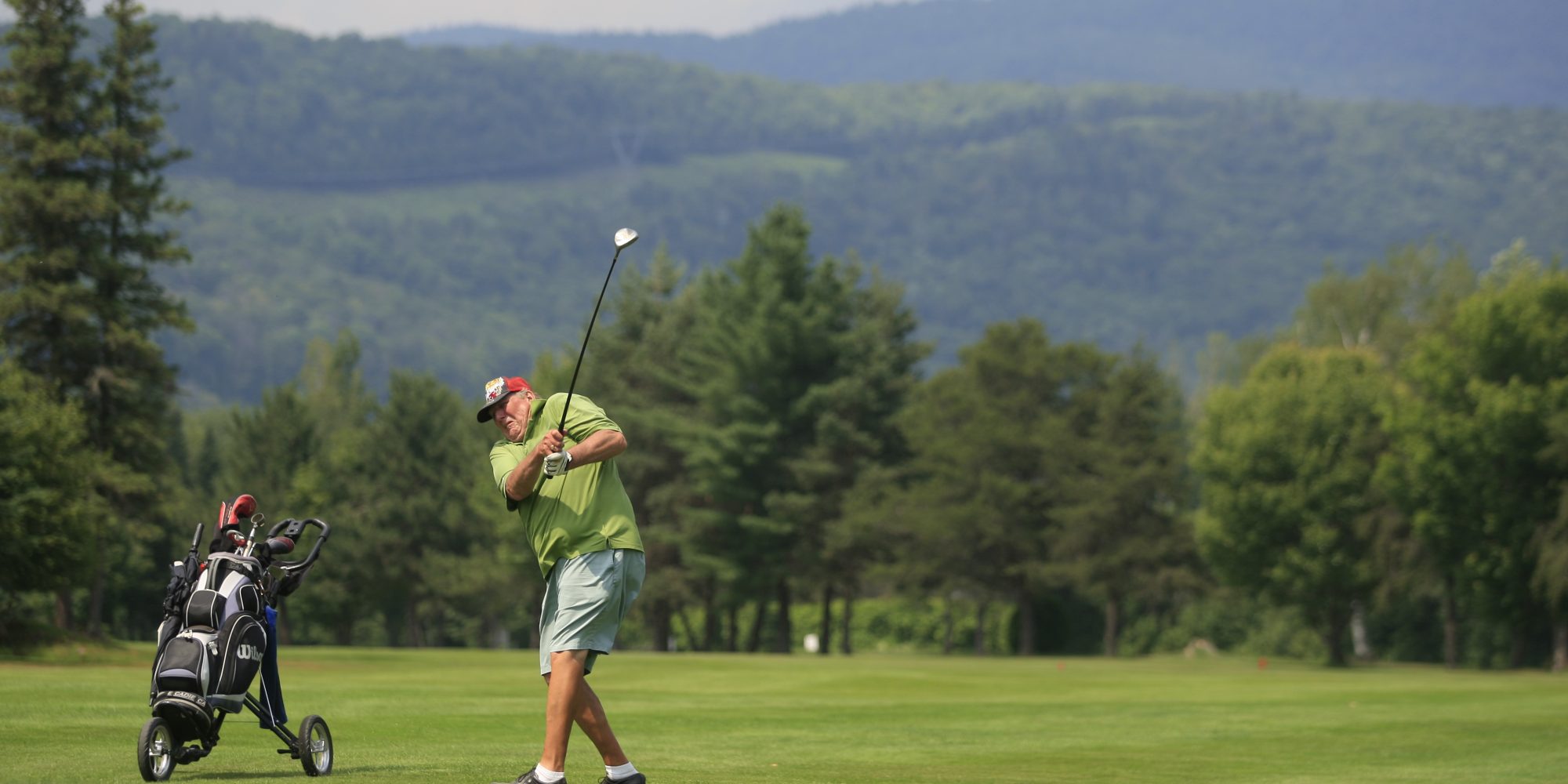 The municipality of Stoneham-et-Tewkesbury is a must with its many attractions, including Golf Stoneham, located in the heart of the charming village. With its 36 holes or its 2 courses of 18 holes (east course and west course), it would be wise to plan 2 outings to take full advantage of this golf course. With the white chapel opposite, the mountains and the forest, you feel in a little corner of paradise! The atmosphere is friendly and warm, then you will certainly be tempted by a good meal to take on their magnificent covered terrace.
In winter, it is transformed into a cross-country ski center operated voluntarily by citizens. Access is generously offered by Golf Stoneham for the benefit of the community, provided that the practice of this winter sport is done with respect for the surrounding nature.
Location: Stoneham-et-Tewkesbury
Route: 2 18-hole courses, west course from 5091 to 6310 yards, east course from 4742 to 5582 yards, Par 70
Academy and shop on site
Her well-kept secret : It is possible to try Footgolf, a combination of soccer and golf!
Suggestion for sleeping nearby : Chalets Alpins or Manoir du Lac Delage 
On presentation of the accommodation invoice at the Chalets Alpins, receive a 10% reduction on your round of golf in the summer of 2022.
Located on the mountainside with a magnificent view of the lake and its surrounding hills, Mont Tourbillon is renowned for its unique landscapes and high quality greens. The club has also been rated 4 stars by the CITQ (Quebec Tourism Industry Corporation). Its 18-hole course offers a real challenge for experienced players and good practice for beginners.
To experience this club is to live a total immersion in nature and an incredible visual experience, and to play in a pleasant atmosphere where the social aspect reigns supreme. The carts are comfortable and equipped with a screen allowing you to find your way around the golf course.
Location: Lac-Beauport
Route: 18 holes, 4625 to 6140 yards, Par 70
Academy and shop on site
Her well-kept secret : Its terrace with a view of the lake
Suggestion for sleeping nearby : Entourage-sur-le-Lac or Montagne le Maelstrom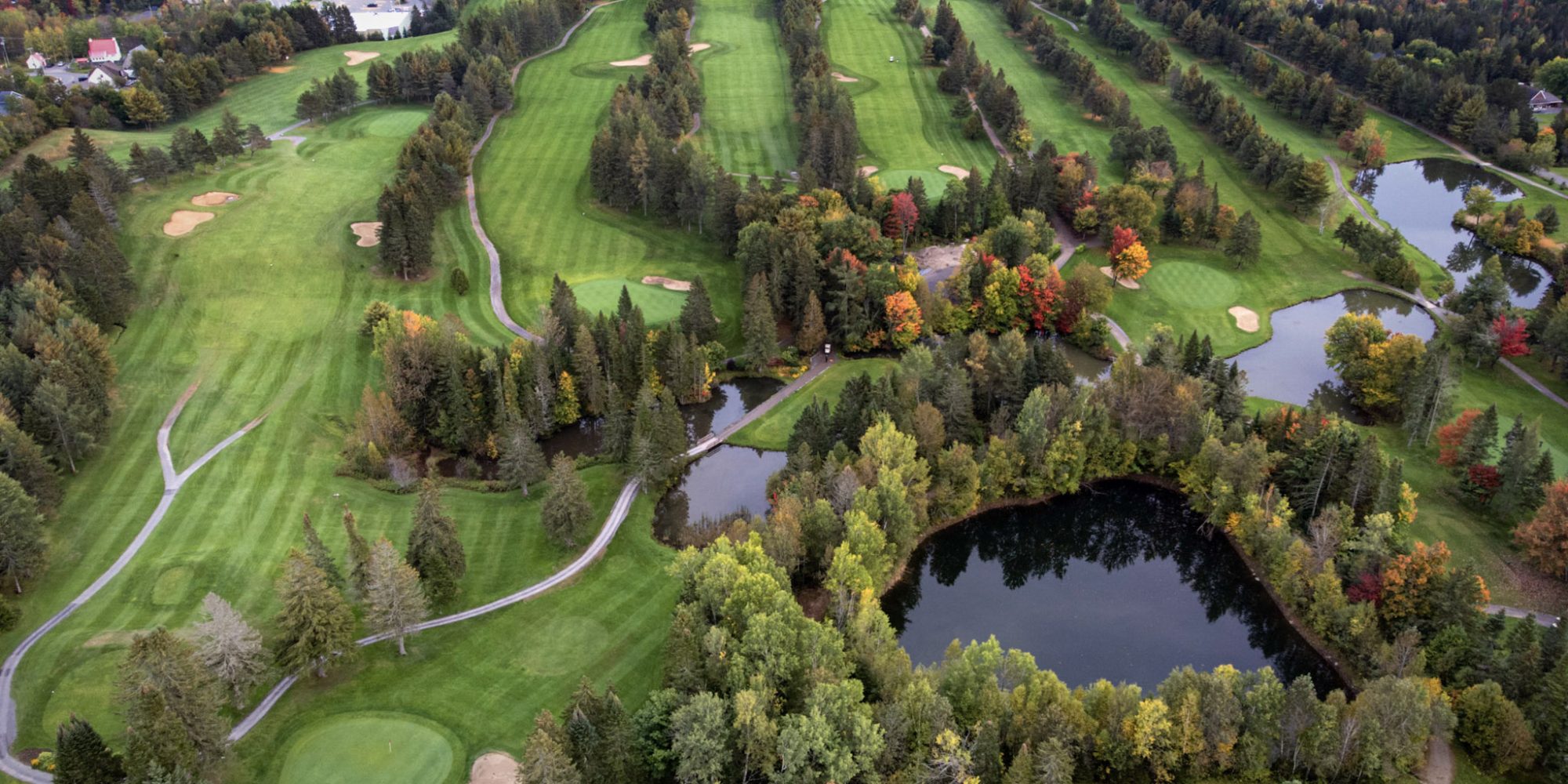 Surrounded by nature, the Club de golf Alpin course, whose layout and quality have been recognized on many occasions, is simply magnificent. All different, the 18 holes each have their difficulty: sand pit, body of water, narrowness of the fairway, etc. There is a site established since 1961 and having always evolved to remain a must in the region. The landscape that adds a touch of beauty to the place will inspire you with the good shots and make you forget the bad ones!
For those who would like to learn to play or improve their technique, there is a practice field with balls available, a putting green and a practice green for short approaches, including a sand trap. The practice field is also available to visitors who do not wish to take the course.
Location: Sainte-Brigitte-de-Laval
Route: 18 holes – 6,135 yards, Par 72
Motorized car and practice balls included
Her well-kept secret: You risk coming across wild ducks or the couple of peregrine falcons who have taken up residence at the Golf Alpin for the summer.
Suggestion for sleeping nearby: Nöge accommodation or Bora Boréal floating houses.
This golfer's route also allows you to enjoy the best of the region since there are many possibilities for accommodation, restaurants and other activities. In addition, its geographical location 20 minutes from downtown Quebec is envious for those who wish to enjoy both the charms of the city and the largest playground in its backyard.
Photos: courtesy of golf clubs and Audet Photo
You will also like the texts: