What were Bonhomme's top picks this year?
Bonhomme had a great time travelling around the region he loves. Here are his top picks from this year's trip!
Day 1: Ready, set, ski!
Bonhomme decided to start his adventure in Lac-Beauport, where he made his very first stop at Le Relais ski centre, a place that means a lot to him.
He loves winter sports, so he decided to spend the full day there. The sun was shining bright, giving him a great view of the skiers zooming down the snow-covered slopes and taking on the Gaby Pleau trail, named for Gabrielle Pleau, the first French-speaking Quebecer to join the Canadian alpine ski team. What a great place to start his stay in La Jacques-Cartier!
After a long day enjoying the fresh air, our traveller decided to retire to the Ice Hotel because it reminded him of his own palace. This magical place certainly makes for a unique experience!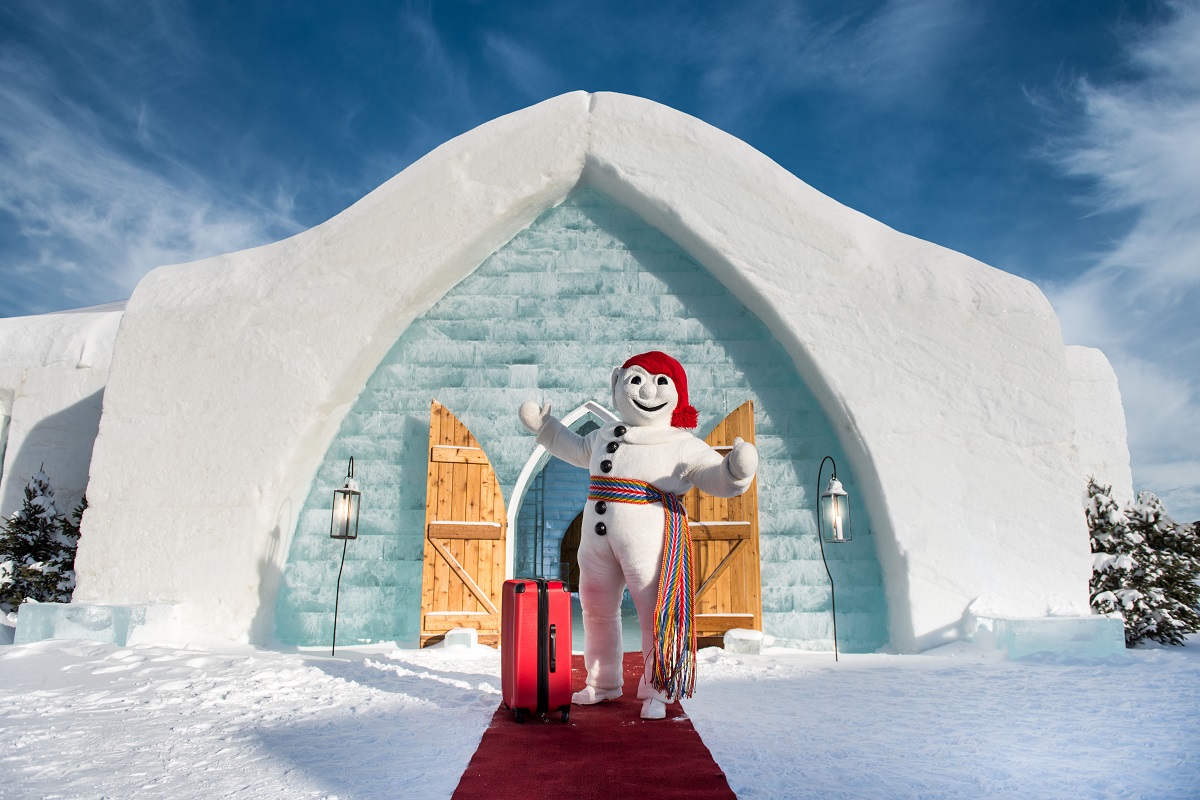 Day 2: Fun on the trails
On Day 2, Bonhomme headed to the Stoneham cross-country ski centre to explore the many trails it has to offer. He went for a nice, long cross-country ski through the forest, enchanted by the wintry beauty of the landscape and the kindness of the site's volunteers. What an exceptional experience!
His last trail took him directly to La Souche microbrewery, the perfect place to unwind after a busy day.
Day 3: Sled dogs and sunshine
On Day 3, Bonhomme decided to relive one of his favourite memories, a dogsledding excursion with Aventures Nord-Bec. Aboard a sled pulled by valiant dogs, he flew across a veritable winter wonderland.
And who could resist the site's adorable dogs? Bonhomme was particularly fond of Watson, who helped make the winter adventure extra special.
Day 4: Tubing on the mountain
On Day 4, Bonhomme decided to go tubing at Glissades Tewkesbury. When he reached the peak of the majestic mountains, he was treated to a spectacular view of the entire region.
Awed by the sight, he decided to take a moment to soak it all in before hurtling down the Guinness, the tallest run in the entire region. Naturally, plenty of laughter and thrills ensued.
After a great day of tubing, he headed down to the chalet at the bottom of the slope to warm up. He was greeted by a group of smiling children, big mugs of hot chocolate in hand. What a fun discovery!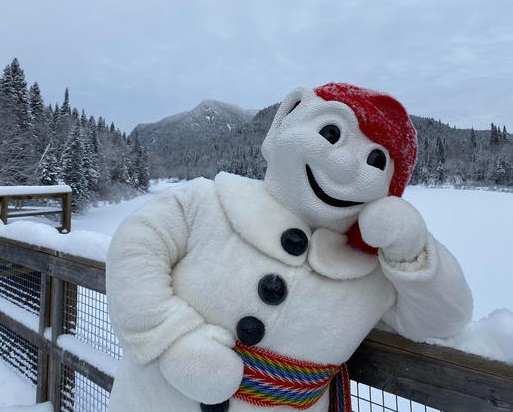 Day 5: Under the snowflakes
An avid hiker, Bonhomme decided to experience the quintessential winter activity at Station Duchesnay.
Equipped with snowshoes, he ventured out on the snowy Lac Jaune trail, a 3.5 km loop where he could let himself get carried away by the natural beauty of winter. His excursion treated him to some gorgeous views, and the crunch of snow under his snowshoes was nothing short of meditative. What a great way to end a winter stay in La Jacques-Cartier!
Want to meet Bonhomme on his next visit to this winter playground? Come see him at:
Or visit jacques-cartier.com to see the region he affectionately calls his "playground" for yourself!
Happy Carnaval!