Unusual accommodations are becoming more and more popular. After all, who wouldn't want to spend a night somewhere creative and exciting? From treehouses to yurts, Québec is seeing more and more of these unique accommodations pop up, and La Jacques-Cartier is no exception. This summer, why not stay somewhere out of the ordinary? You don't even have to go far if you're looking for a change of scenery! We've collected a list of 7 unique places to stay in La Jacques-Cartier.
You'll want to hurry, though: these places might have some openings now, but they fill up quickly.
Treehouse

What child hasn't dreamed of sleeping in a treehouse? Aventure Nord-Bec in Stoneham can make that dream come true. This cabin, perched high in a tree, sleeps up to 4 people. While you're there, you can also visit the kennels, fish for trout, or go for a hike.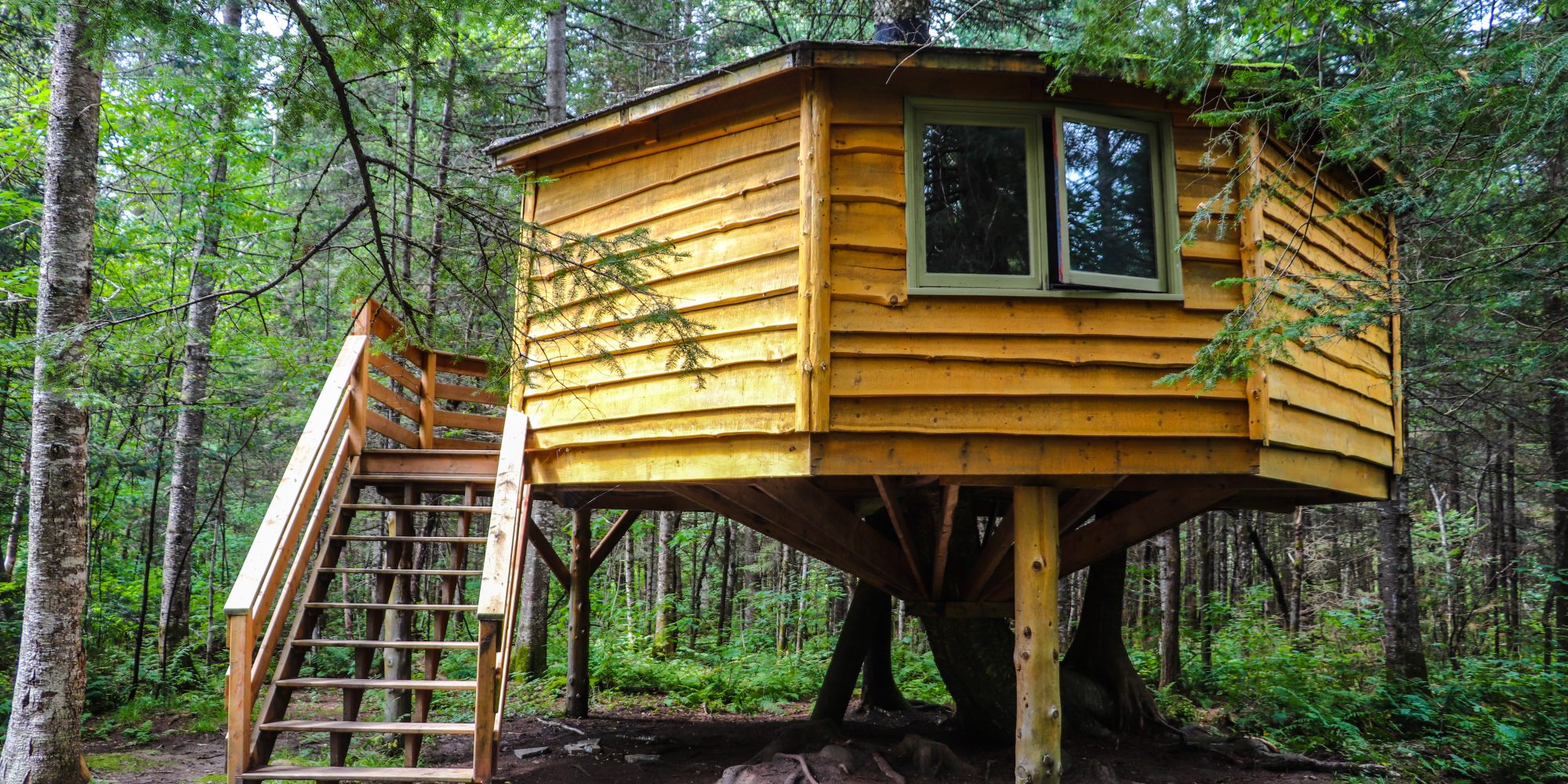 Pods
Have you heard of pods? They're unique little camping cabins made with natural building and insulation materials. You can experience one for yourself at the Pourvoirie du Lac-Beauport, whose La Tanière pod can accommodate up to 3 people. Aventure Nord-Bec takes the experience a step further with its Niche-Pod. The tiny cabin, which looks a bit like a doghouse, fits up to 2.
Domes
Experience the unique charm of a night under the stars by sleeping in a dome tucked into the natural surroundings. Where? At the Centre de l'Hêtre. The place offers 8 comfortable domes that can sleep from 2 to 4 people. These cozy structures are an amazing place to reconnect with nature. The centre also offers canoeing and stand-up paddleboarding on the lake, as well as hiking trails directly from the campsite.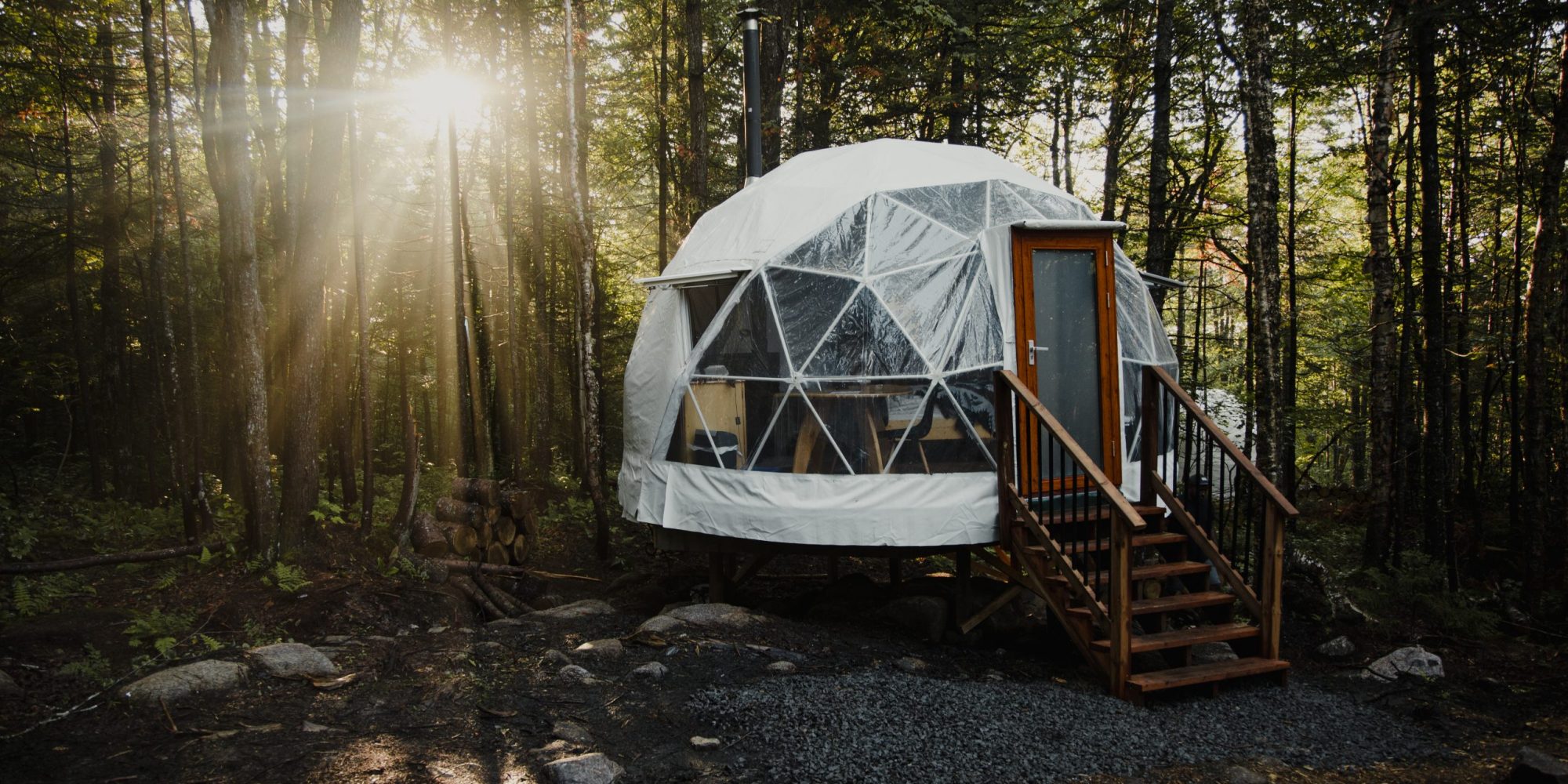 Yurts
Are you familiar with yurts? They're traditional circular houses from Mongolia. And the Centre Castor in Saint-Gabriel-de-Valcartier has a whole village of them in the forest. The site is home to 10 colourful, luxurious yurts, each with its own theme. The yurts feature closed bedrooms, fully equipped kitchens, and compost toilets, and can fit up to 6 people. The Centre de l'Hêtre also has a pair of yurts: one sleeps 2, while the other sleeps 8.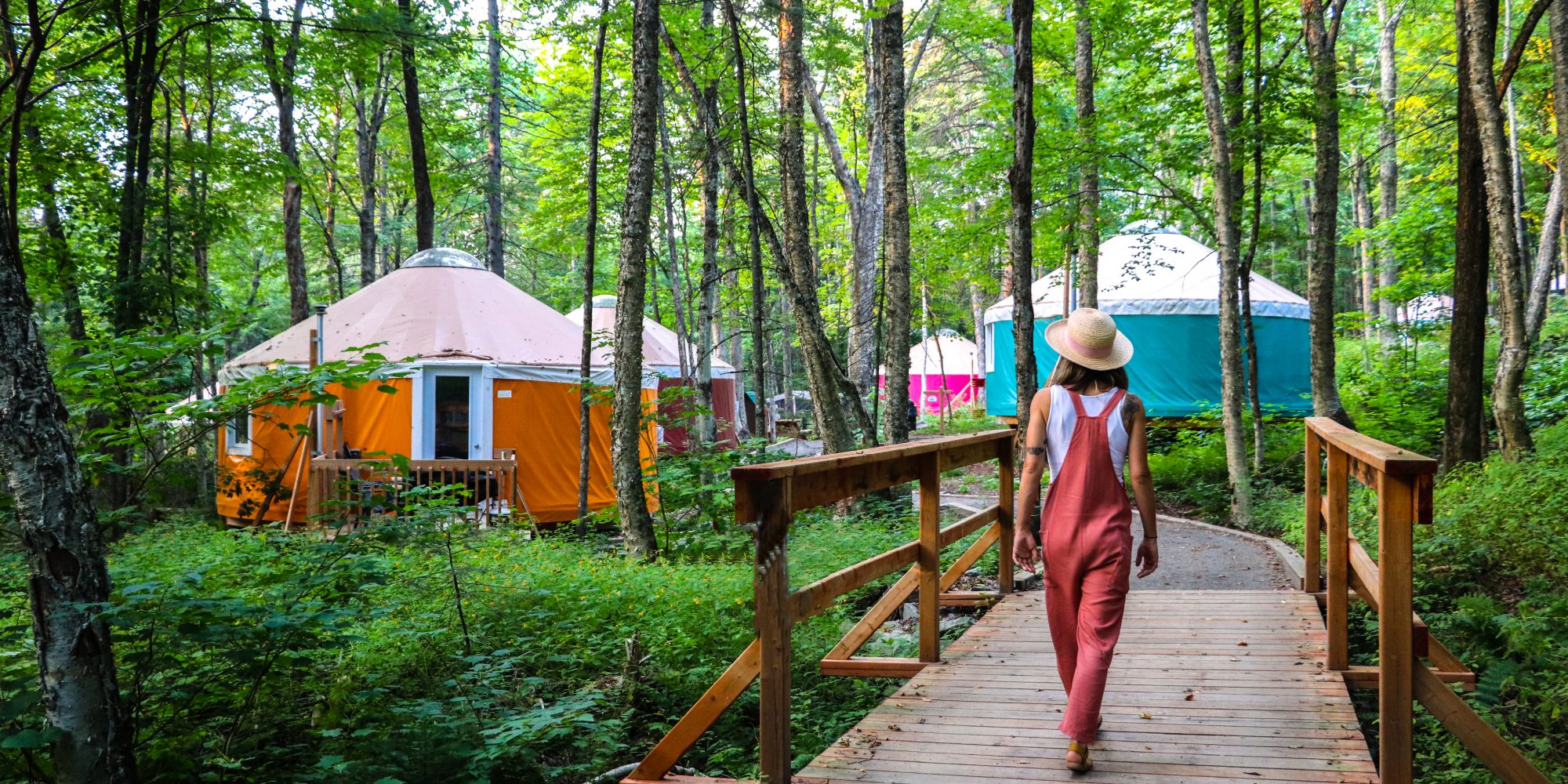 Converted chapel
The Centre de plein air Le Saisonnier in Lac-Beauport offers a truly one-of-a-kind stay. The centre converted this former chapel into a cozy 2-bedroom cabin, with single bunk beds, a fully equipped kitchen, and a common area. A perfect place to completely unplug and enjoy the nearby hiking trails.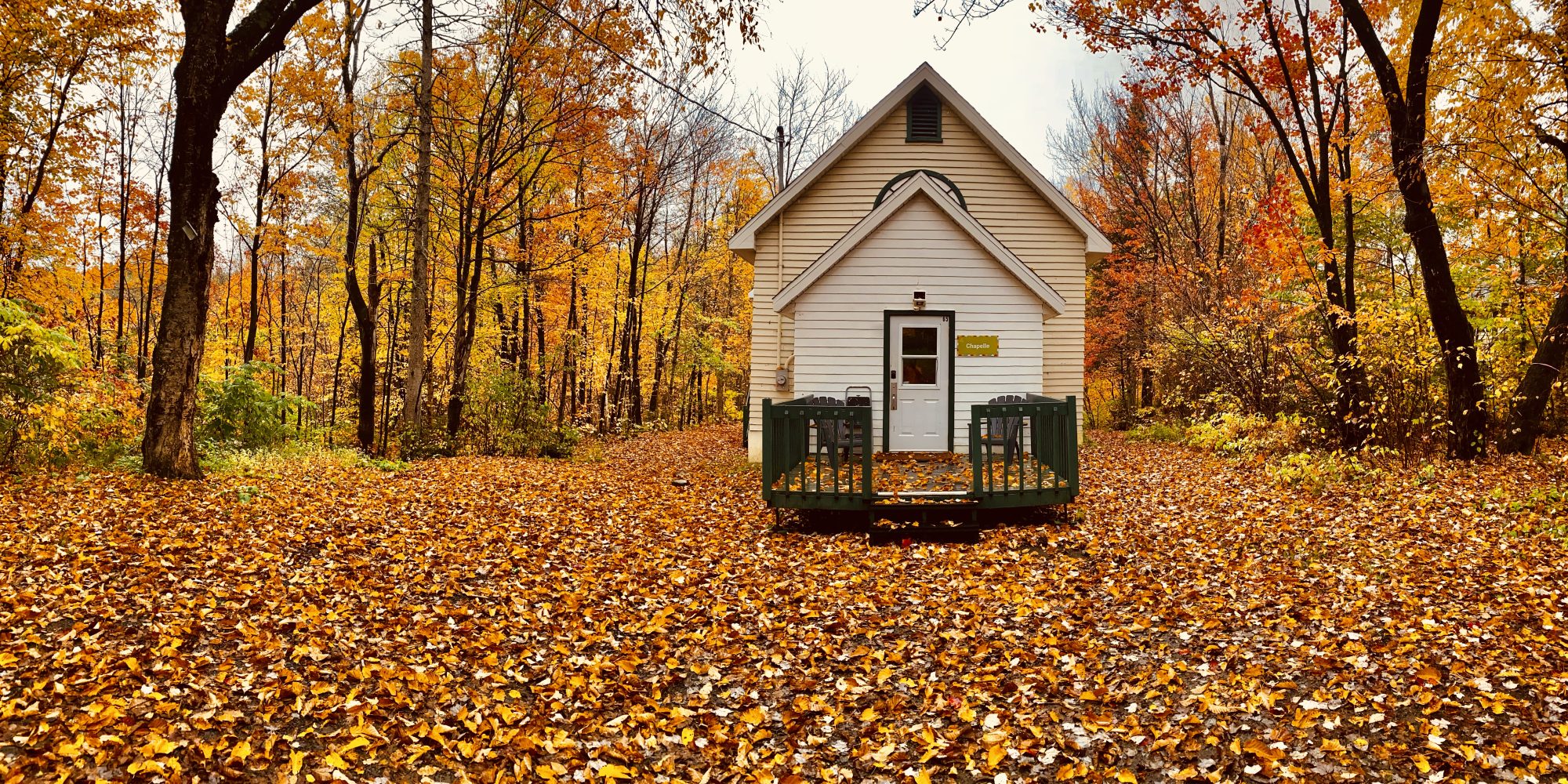 Scandinavian cottages
Scandinavia is all the rage recently. La Jacques-Cartier is home to two spots that truly embody the Scandinavian concept of hygge, or coziness. In Stoneham, Le Côté Sud's distinctly minimalist architecture exudes Scandinavian charm. The bungalow, which has 3 bedrooms, 2 bathrooms, and a full kitchen, can accommodate up to 8 people. It also boasts an ideal location on the riverbank. In Sainte-Brigitte-de-Laval, Nöge Hébergement d'expériences also features Scandinavian-inspired gems. Facing a lake and surrounded by nature, these cabins are nestled into a mountain valley. The fully equipped cabins can sleep from 3 to 6 people.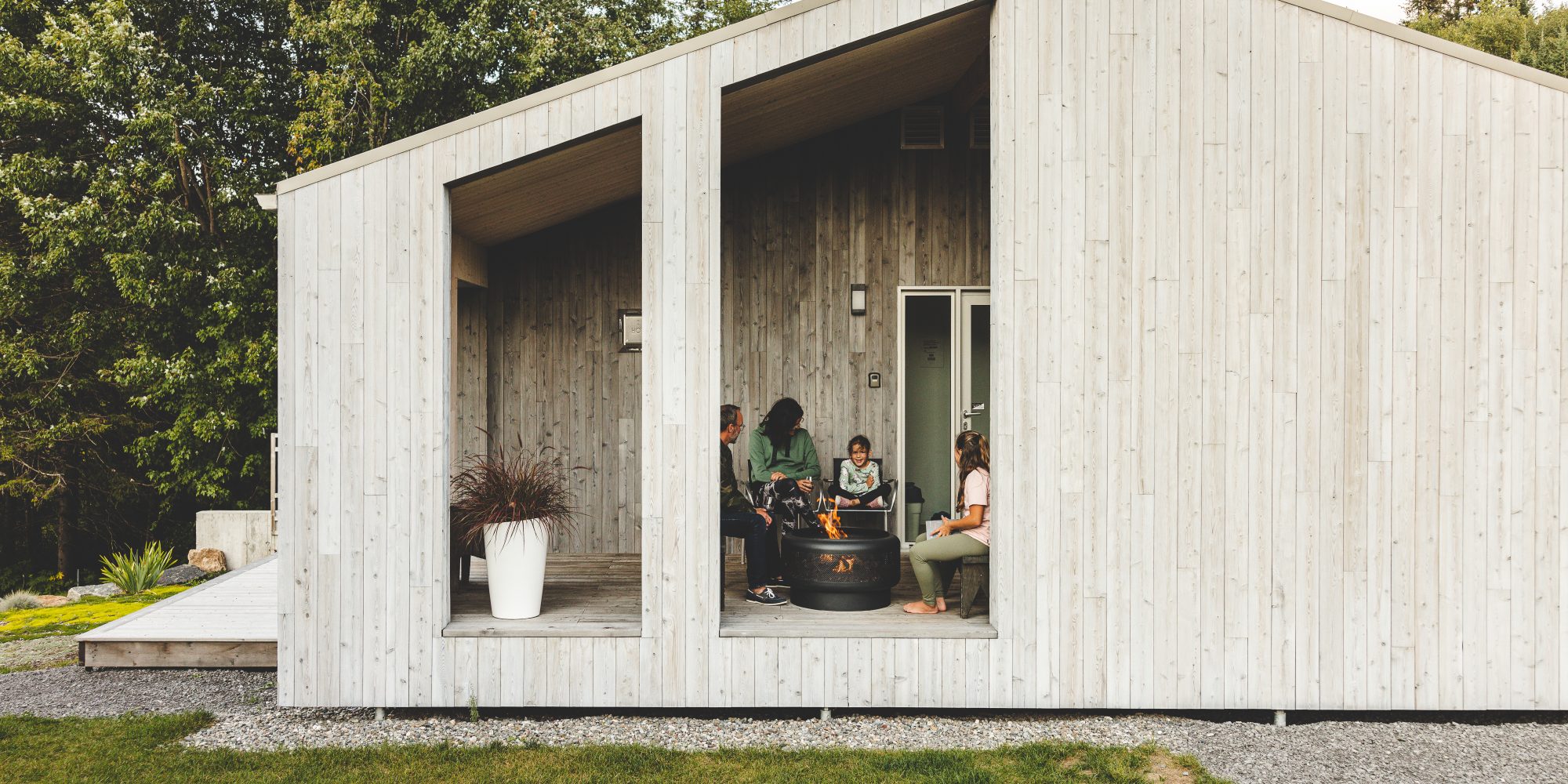 Prospector's cabins
The rustic side of camping is great. Lugging around a bunch of equipment? Not so much. Prospector's cabins are a good way to enjoy nature without the hassle, and La Jacques-Cartier has 3 different places you can try them. First, the Réserve faunique des Laurentides offers 4 Étoile ready-to-camp huts in the Lac-Brûlé sector. Each has three double beds. The Valcartier Campground also has a prospector's cabin available that can sleep up to 5. Finally, the Pourvoirie du Lac-Beauport has two prospector's cabins; one sleeps 2, the other 4.
So where will you sleep?
Marilyn Préfontaine
L'Éclaireuse